Whether you prefer to send an e-mail, pick up the phone or use the good old fax. We look forward to hearing from you.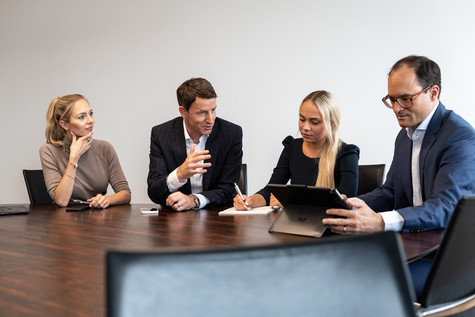 Foreign Trade Law
Different geopolitical and economic interests, as well as increased global tensions between individual states and communities of interest have given rise to stricter national, European and international regulations. This is particularly evident in foreign trade law, an area that has developed considerable momentum in recent years and is becoming increasingly important for globally active companies. Specialised laywers advise companies and entrepreneurs on all issues relating to foreign trade law. As a multidisciplinary law firm, we develop holistic, practice-oriented solutions.
Export Control, Embargoes, and Financial Sanctions
Based on security policy considerations, export restrictions apply to certain goods, technologies, and services. These export restrictions regularly lead to licensing requirements, but can also result in complete bans. Export restrictions cover, for example, military equipment and dual-use goods. Furthermore, there are embargo and sanction measures against certain countries (e.g., Russia, Belarus, and Iran), which also result in export bans and restrictions. In addition to these restrictions, which relate primarily to goods, technologies and services, financial sanctions are also imposed that are directed specifically against individuals, companies, or other economic actors.
We advise companies in connection with all export control law issues, in particular on licensing requirements, export bans and the embargo and sanction measures currently in force against Russia, Belarus and Iran. We also assist companies in drafting and negotiating contracts from an export control law perspective. Where necessary, we also provide support in communicating with the Federal Office of Economics and Export Control (BAFA) and prepare customised company guidelines and fact sheets.
Investment Control and Auditing of Company Acquisitions
Numerous strategic corporate takeovers by Chinese investors have led to a significant increase in the number of investment control procedures. Investment control itself has also been repeatedly and drastically tightened in recent years. Cross-sectoral and sector-specific investment control are the two different control procedures that should be observed in any international transaction. It must be borne in mind that the control mechanism applies irrespective of the sector. In the case of company acquisitions, we undertake the legal review and analysis of whether the target company is classified as particularly sensitive, which thresholds apply, whether notification obligations exist and whether an approval or clearance certificate needs to be applied for from the Federal Ministry of Economics and Climate Protection (BMWK).
Reporting Obligations in Capital and Payment Transactions
Foreign trade law contains a large number of reporting obligations for company holdings and payment transactions with a foreign connection, which must be fulfilled regularly vis-à-vis the Deutsche Bundesbank. In particular, the reporting requirements relating to capital and payment transactions, such as the Z4 report, the K3 report and the K4 report, must be observed. We analyse which reporting obligations exist for your company, train the responsible employees, draft customised corporate guidelines and fact sheets, and help optimise internal reporting processes.
Contractual Arrangements
In the context of international supply relationships, it is essential that contractual agreements also take account of foreign trade risks. For example, violations of embargo and sanction measures can also be committed indirectly by foreign business partners forwarding goods purchased from a German company to sanctioned countries. Contractual agreements can be drafted to contain these risks and fulfil individual due diligence obligations. To this end, we review the contractual agreements of our clients and assist in analysing the supply relationships to identify any potential risks. In addition, we provide companies with customised solutions for their contracts and general terms and conditions (GTC) to ensure that they comply with foreign trade law standards.
Official Procedures in the Event of Infringements
If foreign trade regulations are violated, sanctions may be imposed. These can include, for example, heavy fines, but also prison sentences. In these cases, we assist clients in coming to terms with the violations and the associated risk analysis. To the extent permitted by law, we assist in the disclosure of violations by means of self-disclosure in order to avert the threat of sanctions.
Compliance Measures
In order to avoid mistakes and reduce the risk of violations, compliance with all relevant foreign trade regulations should be integrated into a company's compliance process. Therefore, we analyse existing risks together with our clients and assist in the review, revision, and development of suitable compliance systems in all of the aforementioned areas.