Whether you prefer to send an e-mail, pick up the phone or use the good old fax. We look forward to hearing from you.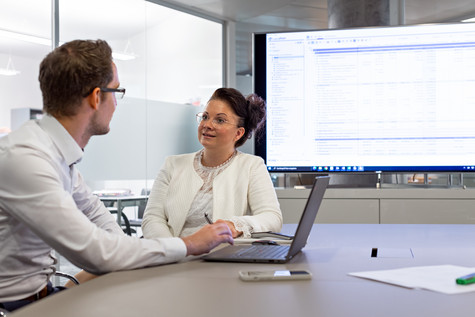 Management Consulting
We stand for client-oriented business management consulting for medium-sized enterprises across all sectors. To implement sustainable value creation, together with our clients we analyse the current situation, identify potential and then develop practicable and efficient solutions.
Certified LucaNet Partner
Global competition has three consequences: the financial sector is becoming increasingly complex; markets are becoming narrower; individual financial constraints are growing. Each of these factors are key to corporate structuring and they all need to be factored into future-oriented planning. The demands of banks, holding companies and other investors for regular and standardised reporting are also intensifying. Consolidation and planning software "LucaNet" fulfils all the requirements of a finance department, up to and including the consolidation of company groups and management companies pursuant to the German Commercial Code (HGB) and IFRS. Together, we can bring more transparency to corporate processes and facilitate structured, integrated corporate planning – especially with respect to existing corporate structures.
As a certified LucaNet partner with many years' experience and solid specialist knowledge, we also provide an expert introduction to and ongoing support with the LucaNet software module.
Click here to access the TeamViewer.
Accounting & Controlling
Your company has established itself on the market, but where will it be in three years? Or in five, or ten years? How successful is each individual company and how is the company group placed as a whole? The analysis and systematic monitoring of relevant figures provides the foundation for successful future-oriented corporate structuring. At the same time, complexity increases as (group) structures expand. Therefore, in order to be able properly to assess the corporate future, in addition to performance management expertise, a professional planning and controlling system is required – regardless of whether the enterprise in question is an individual company or a corporate group.
Working in partnership with our clients, we combine holistic consulting expertise in business management consulting, auditing, and tax consulting to develop suitable solutions for planning and controlling processes, using company figures to identify potential for boosting earnings and optimising cash management.
Mergers & Acquisitions / Due Diligence
Irrespective of whether the transaction concerned is a purchase, a sale or corporate succession, comprehensive due diligence is the starting point for successful M&A-deals. Since every transaction is unique and individual, there is no "one-size-fits-all" solution. Therefore, experience and good instincts are a key component in successful projects, as we have been able to demonstrate in numerous transaction consultations. Together, we will compile a well-thought-out equity story, prepare all important documentation in the form of investment teasers and information memoranda or financial factbooks, as well as identify relevant investors or find suitable targets for additional acquisitions. As a matter of course, we conduct plausibility checks on purchase price expectations based on recognised valuation methods (IDW S1, multiple proceedings).
Corporate Finance
The targeted structuring of corporate financing can make a significant contribution to the success of your business. Lenders base their decisions on key figures that can be optimised by means of appropriate structuring. Together with our clients, we develop the optimal structure for the financing issue at hand. From project financing to a holistic, future-oriented realignment of corporate financing, we are a dependable partner for small and medium-sized enterprises. We examine all available instruments, from traditional bank loans to mezzanine capital such as profit participation certificates and the issuance of SME bonds. Combined with our long-standing and comprehensive network, this means we are perfectly placed to find the right solution for you.
Together with Austrian law firm Cerha Hempel Rechtsanwälte, Menold Bezler advised Alfred Ritter GmbH…