Whether you prefer to send an e-mail, pick up the phone or use the good old fax. We look forward to hearing from you.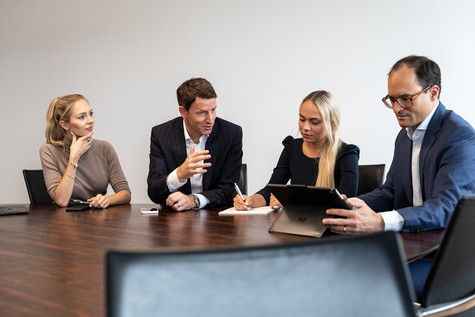 Employment Law
The fast-changing nature of business life today is reflected in employment law, which continually presents new challenges to enterprises. In order to address these challenges successfully, we provide comprehensive advice in both individual and collective employment law as well as in the closely related area of social insurance law. One focal point of our services lies in working closely with the management of companies to implement transfers and mergers of companies, transitions and closures of plants, outsourcing projects and personnel changes. In negotiating with works councils and unions, as well as in arbitration proceedings, we rely on our sound judgment, and remain focused on the goal.
Our core competencies include:
monitoring the due diligence through to the final harmonization of working conditions in corporate acquisitions,
answering all questions of shareholders, management boards and managing directors of companies through to the participation of employees in supervisory boards and supporting electoral processes,
providing ongoing support to HR departments to help them fulfil their duties and responsibilities: drafting and negotiating employment contracts, shop agreements and collective bargaining agreements, in personnel development, individual personnel matters, working hours, compensation structures, company pensions, international secondments, supply of temporary workers, anti-discrimination issues, employee data protection and compliance,
advising the public sector and its companies, as well as non-profit organizations, in strategic decisions and structural changes in order to promote economy, efficiency and a people-centered orientation. We are equally familiar with public and church collective bargaining and employment contracts as well as with the specific requirements of individual sectors (hospitals and nursing facilities, public transport, supply and waste disposal),
representing executives,
representing the interests of our clients nationwide before public authorities and all trial- and appellatelevel courts.