Whether you prefer to send an e-mail, pick up the phone or use the good old fax. We look forward to hearing from you.
M&A Transaction Services
We advise on all legal, financial and tax aspects of corporate transactions at each stage of the process - before, during and after. Our expertise encompasses acquisitions and sales to financial investors or strategists, as well as bidding procedures, asset deals and share deals. We also oversee transactions in the context of joint venture or restructuring scenarios. Our tailored concepts always take account of the financial interests of our clients from the 'Mittelstand', as well as those of investors, and we pursue these interests in a targeted manner.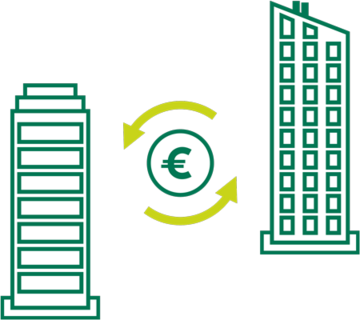 Full-Service for Buyers and Sellers of Companies
We accompany the entire transaction process on both buyer and seller side. Our firm's full-service approach means we are able to advise on all areas and phases relevant to M&A-transactions, from due diligence proceedings to the conclusion and execution of the transaction through to the integration of new acquisitions into existing corporate group structures. This also includes professional project management. We coordinate the various areas during the due diligence proceedings, structure the transaction across all professional disciplines and oversee contractual negotiations. Our skilled team of lawyers, tax advisors and auditors are ideally positioned to reliably implement even the most complex and large-scale of projects, while ensuring that specific targets are met.
Transactions in the 'Mittelstand'
In addition to growth in strategic areas, the impetus for transactions involving small and medium sized companies from the German 'Mittelstand' may come from the absence of or lack of interest of successors within the family. M&A-transactions pose a new and unfamiliar situation for many companies in this sector and for shareholders in family-owned businesses. Often, they do not have sufficient personnel resources to procure and process the necessary information. Our combination of a deep understanding of the needs of small and medium-sized companies and a personalised and pragmatic approach have made us proven specialists for SME-transactions. Thanks to our international network, we can also advise clients on cross-border transactions. In addition to analysing the facts and figures, we also appreciate the emotional and human aspects involved. More about Wealth and Succession
Private Equity
We advise investors on all legal, financial and tax issues relating to investments, be it in the form of a majority or minority shareholding, a leveraged buy-out, a management buy-out, management buy-in or similar arrangement. This also applies in the event of an exit by means of a trade sale, IPO or refinancing. Our main focus is advising on mid cap-transactions.
Venture Capital and Start-ups
Our advisory team has extensive experience with start-up holdings and helps venture capital investors to optimise the legal and tax aspects of their investments. We also support start-ups looking for the right investor and advise on the necessary steps for involvement. We identify potential areas of conflict and always ensure that any contractual agreements give due consideration to and balance the various interests and corporate cultures involved.
Joint Venture
We advise on the ideal form of cooperation by means of joint ventures in a wide range of sectors. In addition, through our international network, we can also advise on cross-border cooperation in the context of market entry. When it comes to dissolving joint ventures, we also oversee withdrawal proceedings, including partner buyouts.
Distressed M&A
In the case of the acquisition and sale of companies in crisis or insolvency, we support and advise both investors and insolvency administrators. Our experienced team takes account of the interests of the various stakeholders involved and is able to secure investor proceedings even within tight timeframes. In the case of pre-insolvency acquisition, as well as in the case of restructuring by transfer, we always evaluate all relevant insolvency law issues involved.
International Transactions
We advise clients on cross-border transactions and connect them with the foreign experts with the appropriate expertise for the specific circumstances. In this context, we have at our disposal a flexible network of leading firms specialising in cross-border and international legal issues. In addition to this, we can also rely on our membership in MGI Worldwide for international issues relating to auditing, tax advice and corporate consultancy. More about the global network