Whether you prefer to send an e-mail, pick up the phone or use the good old fax. We look forward to hearing from you.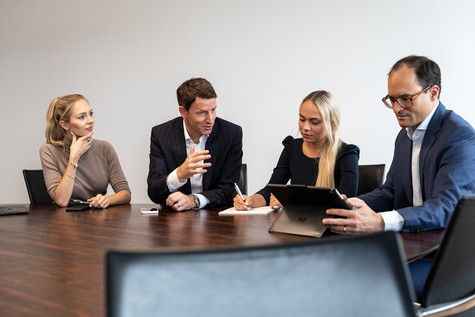 Reorganisation and Restructuring, Insolvency Law
An economic crisis situation involves numerous demands and can carry considerable liability risks for all parties involved. The wide range of complex issues requires intensive advice, particularly in the areas of insolvency law, corporate law, directors' and officers' liability and D&O insurance, banking law & financing as well as employment law. With our interdisciplinary team of lawyers, tax advisors and auditors, we can identify the critical points, help to minimise risks and develop solutions. The spectrum of our advice covers all relevant areas relating to restructuring and insolvency situations.
Restructuring Advice
Legal, business management and tax advice for companies in crisis
Preparation of planning and scenario calculations and action plans, development of restructuring concepts
Profit and liquidity planning, controlling
Plausibility review of solvency forecasts
Assistance with bank reporting
Employment Law
Design of staff reduction measures, voluntary programmes, transfer companies, mass redundancies
Negotiations with trade unions and works councils; restructuring collective agreements, reconciliation of interests, social plans
Short-time work, outsourcing, transfer of undertakings, closure
Company pension schemes
Financing and Banking Law
Advising borrowers and credit institutions:
Waiver requests (e.g. due to breaches of covenant).
Non-performing loans and their (re-)collateralisation, collateral pooling agreements
Standstill agreements
Bridging and restructuring loans
Realisation of collateral
Advising Creditors
Advising customers and suppliers in crisis and in the event of the insolvency of a contractual partner
Examination and enforcement of rights to segregation and preferential satisfaction
Negotiation of agreements on further production and resale
Advice on the provision and realisation of collateral
Defence against insolvency avoidance claims
Advising Directors and Officers
Avoidance of liability risks
Defence against directors' and officers' liability claims
Enforcement of claims under insurance law, in particular actions for coverage
Distressed M&A
Carrying out legal, tax, financial Due Diligence investigations
Contract drafting and negotiation
Preparation of and overseeing the entire bidding process
Company valuation, planning calculations
Analysis and structuring of the transaction object, including tax structuring
Distressed Real Estate
Restructuring of real estate and real estate portfolios, acquisition and sale of real estate including tax structuring
Advice on tenancy law in the event of a tenant crisis
Support for Insolvency Administrators
Assertion of insolvency avoidance claims
Assertion of directors' and officers' liability claims and claims for damages
Drafting and negotiating continuation and loss assumption agreements
Ongoing tax advice
Restructuring & Insolvency Administration
Filing for insolvency
Legal support for the initiation and implementation of proceedings pursuant to the Act on the Stabilisation and Restructuring of Businesses (StaRUG)
Regular insolvency proceedings/self-administration proceedings
Assumption of the role of restructuring representative (StaRUG)
Assumption of the role of insolvency administration/property administration
The creditors' committee and the administrator have agreed to transfer the business operations of…
Five new partner and counsel at Menold Bezler
Menold Bezler appoints four partners and one counsel in the areas of corporate law, audit, dispute…
Learn more
Speidel GmbH, headquartered in Göppingen, Germany, filed for insolvency proceedings in…